Mumbai! The city of dreams and the city of gold is also a living soul in itself. This 'infectious city' is home to a plethora of people, with varied diversity and cultural richness. But the flip side of the coin reveals a dark and spooky nature of the mega-city. There exist horror stories in Mumbai that can send chills to your spine and leave you pale and horrified! Read on as we bring to you a list of some of the most haunted places in Mumbai…
1. Shawarma at The Shawarma Stand at Rs. 40/-
The Shawarmas in the Suleman Usman lane are amazing as they are in the whole sense pocket friendly. ranging from anything between Rs. 25 to Rs. 50, these wraps are perfect to be the first part of the elaborate meal you'll have.
2. Indian Chinese at Chinese N Grill
Source
No matter what anyone in the whole wide world says, we Indians will always prefer our version of Chinese food over anything that is authentic! So go ahead and beat yourself up with the spicy kind of chinese food that makes us all salivate.
3. Chicken Lollipops by the dozen
Source
Now you know how aalloo bhajiya is fried on any average day in most areas, in big frying pots in litres of boiling oil. That is exactly how chicken lollipop is made on these streets.
4.Chicken Tandoori/Tikka/ Tangdi kabab from practically anywhere
5. Tandoori Platter from Chinese N Grill
The Afghani platter comes with several options and types of kebabs. trust me, only the thought of all the types of flavours is making me salivate.
6. Firni and malpua from Suleman Usman Mithaiwala
The entire street has derived its name from this one mithaiwala shop. The firni and the malpua from this shop is like nothing you'll find elsewhere, at least in Mumbai.
7. Burhanpur Jalebi from the Burhanpur Jalebi Centre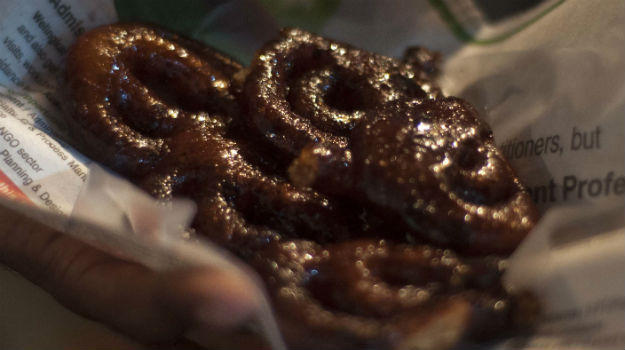 The Burhanpur Jalebi center is one of its kind in the city. The taste, the sweetness and crunch of a jalebi at the sweet shop is like a beautiful story you can't narrate. First hand experience is a must.
For all you hygiene frenzy people, don't waste too much time with all the unnecessary speculations and contemplation. Your relationship with food is one with romance in it. Take a leap of faith and all you'll find is a perfect lip smack, a full tummy and a good night's sleep!
8. Chicken Tandoori and Chicken Tikka at Chinese N Grill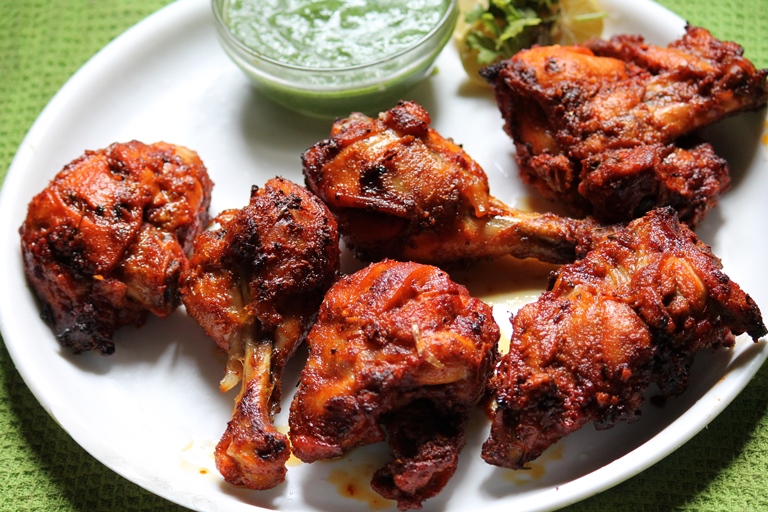 As soon as you enter Mohammed Ali Road, the aromas wafting from the kebab stalls will pull you. Start with some charred Chicken Tikkas and Tandoori Chicken.
Where: Chinese n Grill
Price: Chicken Tikka Rs 60 (per plate), Chicken Tandoori Rs 100 (per piece)
9. Khiri Kalegi at Bismilla Stall
Make your next stop at Bismilla stall for some khiri (udders) kaleji (liver) roasted on charcoal or fried.
Where: Bismilla stall, Mohammed Ali Road
Price: Khiri Kaleji Rs 80 (per plate)
10. Quail Tandoori and Pahadi Chicken Kebab at Janta Ice Cream and Fast Food
Walk a little further to Janta Ice-Cream and Fast Food. Don't go by the name as they do not sell ice cream anymore but still make tasty food. Try the Quail Tandoori and Pahadi Chicken Kebabs.
Where: Janta Ice-cream and Fast Food
Price: Quail Tandoori Rs 200 (per piece)
11. Khichda
Towards the end of Mohammed Ali road, you will find a man sitting with a huge vessel of Khichda. The concoction of mutton, lentils, rice and spices is the ideal meal after the kebabs.
Where: Towards the end of Mohammed Ali Road
Price: Rs 70 (per plate)
12. Zuban Fry at Bademiya
Source
If you're an adventurous eater, go for the fried Zuban (goat's tongue) at Bademiya near Minara Masjid gate.
Where: Bademiya (Next to Minara Masjid Gate)
Price:Zaban Soup Rs 140, Zaban Fry Rs 140, Dil Tawa Fry Rs 140, Dil Soup Rs 140/li>
13. Malpua at Noorani Milk Centre
Going to Mohammed Ali Road and not eating Malpua is a crime. The deep fried, crispy and soft dish is made with eggs. Try them at Noorani Milk Centre.
Where: Noorani Milk Centre
Price: Rs 100 (with single egg), Rs 120 (with double egg)
14. Phirni at Suleman Usman Mithaiwala
The Phirni at Suleman Usman Mithaiwala is what every Mumbai foodie swears by. It's mildly sweet, creamy and has lovely flavour of kewra and saffron.
Where: Suleman Usman Mithaiwala
Price: Rs. 420 (per kg)
15. Bohri Mohalla
The Bohri Mohalla is comparitively less crowded and has some of the Bohri specialities. Try the Baida Roti – chicken or mutton roll coated with egg.
Where: Tazza Food Centre
Price: Baida Roti Rs 50
16. Kala Jamuns at JJ Jalebiwala
Go to JJ Jalebi for Kala Jamun and Mawa Jalebis. They are absolutely melt-in-mouth and served with thick rabdi.
Where: JJ Jalebi
Price: Kala Jamun Rs 30 (with rabdi), Rs 12 (without rabdi)
17. Malai Khaja at Tawakkal
Wrap up your awesome food walk with the Malai Khaja at Tawakkal. This Ramzan speciality is flaky, crispy and soft and is made of maida, cream and milk.
Where: Tawakkal
Price: Malai Khaja Rs 100 (per piece)
Comments
comments