Water falls near Mumbai is always among top picks of tourist. People always dream to visit this city in Monsoon and experience heaven on earth. Lets take a look at some famoust waterfalls in and near Mumbai.
01. Bhivpuri Waterfalls
Bhivpuri road one of the famous stations among mumbaikar's as well as tourist. Famous because it has one the most famous as well as common waterfall. From Bhivpuri Road one can easily walk to the waterfall as opposed to getting off at Karjat from where travellers will have to trek around 2 km to reach the waterfall.
How to reach Bhivpuri Waterfall:
By Train: Get into a Karjat bound local train on central line.
Get down at Karjat station and move to auto stand in the east. You can easily get a auto from there for Bhivpuri Waterfall.
02. Pandavkhada waterfalls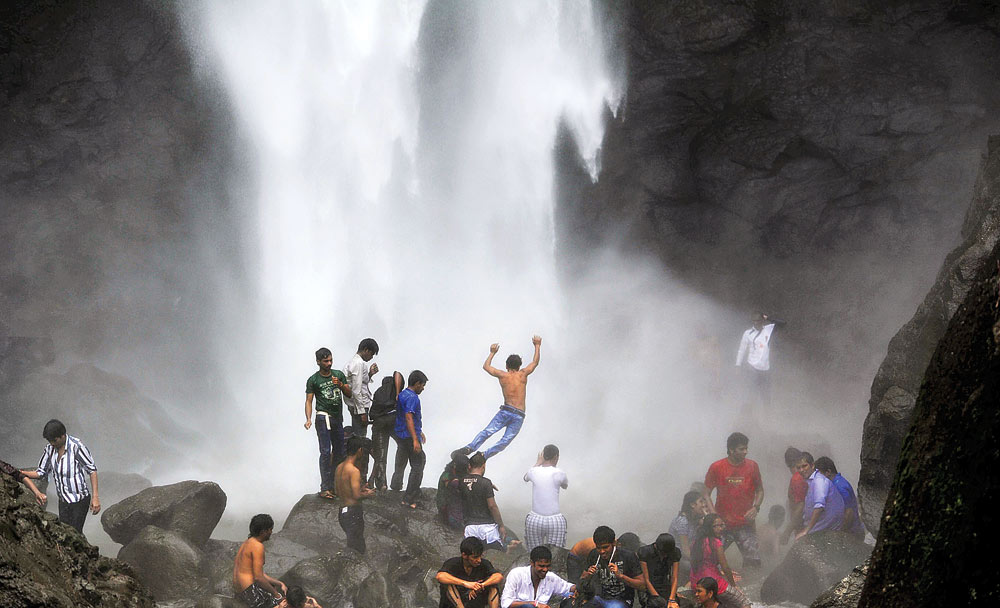 Pandavkada Falls is a waterfall located Kharghar, a suburb of Navi Mumbai. The waterfall, about 107 metres high is a type of 'plunge' waterfall in nature pouring in massive amounts of water on the rocky surface underneath. Pandavkada Waterfall is a popular spot for one day picnics.
How to reach Pandavkada Waterfalls Kharghar?
By Train:-
Kharghar is in Navi Mumbai and can be accessed to Harbour route. Catch up a train from Mumbai CST from the Harbour route and with one and half hour you are at Kharghar. As soon as you get down at Kharghar Station, take richshaws which will take you to the waterfalls.
By Bus:-
The Bus route is more comfortable option than train, as there are several KDMT, NMMT and BEST buses plying regularly connecting Navi Mumbai with various cities like Kalyan, Thane and Mumbai. The latest A/C Volvo buses are very convenient and comfortable on these routes, though they charge a little more than the regular buses. The few NMMT buses that ply to Kharghar include 26 (from Thane), 29 (from Thane), 44 (from Dombivli), 52 (from Taloja), 53 (from CBD), and 54 (from Ghansoli). The BEST buses that connect Kharghar with Mumbai include 504 (from Vadala), 503 (from Sion) and AS – 503 (from Wadala). Kharghar is easily accessible from Pune, since it is located on the Mumbai – Pune Highway.
By Car:-
The best route by road from Mumbai to reach Kharghar in private cars or vehicles is to take down the Sion – Panvel Highwa
03. Kondeshwar Waterfall
Kondeshwar is a small picnic spot near Badlapur town in Thane District. There is a lake named Kondeshwar Lake which is formed by Bhoj Dam. The Kondeshwar Temple is situated near the Kondeshwar Waterfalls.Kondeshwar is accessible via road. Nearest station is Badlapur East. One can hire a auto till Kondeshwar temple at a price of 50Rs per person. Go in groups as they take only when the vehicle is full i:e 5 people per vehicle. One can also take their private vehicle.
04. Tapalwadi Waterfall
Tapalwadi, A small village situated near Neral, in Karjat Taluka, is famous for its waterfalls. The falls here are not so high but the volume of water flowing is immense. The area is surrounded by lush greenery which makes it an ideal destination away from the noise and hassles of daily life.The best time to visit Tapalwadi is of course during the monsoon months.
How to reach Tapalwadi
Tapalwadi is located 65 kilometers towards east from district headquarters Alibaug, 60 Kilometers from state capital Mumbai
05. Tungareshwar Waterfalls
If you don't want to travel too far from the city you can catch a Western Railway local train and get down at Vasai or even at Naigaon and head towards Tungareshwar waterfalls that offer complete fun and thrill that you can get within the city limits. You can also take a rickshaw from Vasai station or you can make use of the local state transport bus to reach the destination.
How to reach:
By Car / Road: The once who want to go here needs to take a right turn towards the Tungareshwar village from the Vasai highway.
By Train: Get down at Vasai station (East) and take an auto to reach Tungareshwar waterfall.
06. Malshej Ghat
Malshej Ghat is a "Must Visit" place during the Monsoon season. On the road to Malshej Ghat one leaves the plains in the west and climbs onto the hilly elevated Deccan Plateau. The scenic beauty of Malshej Ghat and the Sahyadri Hills (Western Ghats) is stunning; more so during the rainy season when there is greenery and waterfalls all around. In the monsoon, there are numerous waterfalls for visitors to get wet under. All vehicles get wet under waterfalls near the famous Malshej Ghat Tunnel.
07. Chinchoti waterfalls
The Chinchoti waterfalls is located to the east of Naigaon.It is a popular picnic spot for the young crowds from Mumbai City . In the center of the thick forest is this waterfall, which flows continuously from June to October. The waterfall is about 100 ft. high and 20 ft. broad. Tourists visit this place to enjoy this majestic falls. This wonderful waterfall makes a great monsoon getaway for mumbaikars. But on weekends it might seem as though the entire population of Mumbai is here.
How to reach:
The nearest railway station is Vasai. From here tourists can catch a bus to Kaman Phata, nearby is the village Chinchoti. Tourists can also take an auto from station charging 10Rs.
Hope you like the post 🙂
Comments
comments