Mumbai pav bhaji places: Mumbai without Pav Bhaji is like cricket without Sachin – incomplete. Initially a mill worker's daily meal, it stole Mumbai's heart with its savoury taste. But with Pav Bhaji stalls dime a dozen now, how do you know where to tickle your taste buds just right? NearFox has compiled a list of Mumbai's top Pav Bhaji joints that have been churning mouth-watering stuff for ages now.
1. Sardar Pav Bhaji Tardeo
Sardar refreshments aka sardar pav bhaji serves probably the most iconic pav bhaji in south mumbai. If u r a townie then u def have heard about this butter laden delight. Been visiting this place since childhood and the amount of butter has not decreased one bit ( might have increased) . The butter is wat makes this pav bhaji special. Weekends there is huge waiting line even for parcel. The taste of the pavbhaji is excellent .
Address: Tardeo Road Junction, Opposite Bus Depot, Tardeo, Mumbai
Opening hours: 12 Noon to 2 AM
Cost: ₹250 for two people (approx.)
2. Maruti Pav Bhaji at Vile Parle
Pav bhaji is one of Mumbai's hottest selling fast food and street food!. Maruti Pav Bhaji is an awesome place to have this rich flavored cuisine called "Pav Bhaji". Though menu has less option or variety, but the ones you get in front of you are definitely mouth watering… Must Try in Mumbai Vileparle (West) Just 05 Minutes walking distance from vileparle station Maruti pav bhaji is also recognised as black pav bhaji which is unique from all other pav bhaji. They make it using coconut and their special masala which makes the bhaji black but it very tempting mouth watering. It's very yummy and food is served quickly doesn't have to wait much.
Address: Ground Floor, Angelina Building, Near Toyota Showroom, Baji Prabhu Despande Marg, Vile Parle West, Mumbai
Opening hours: 7:30 PM to 12 Midnight
Cost: ₹150 for two people (approx.)
3. Bhagwati Pav Bhaji Kandivali West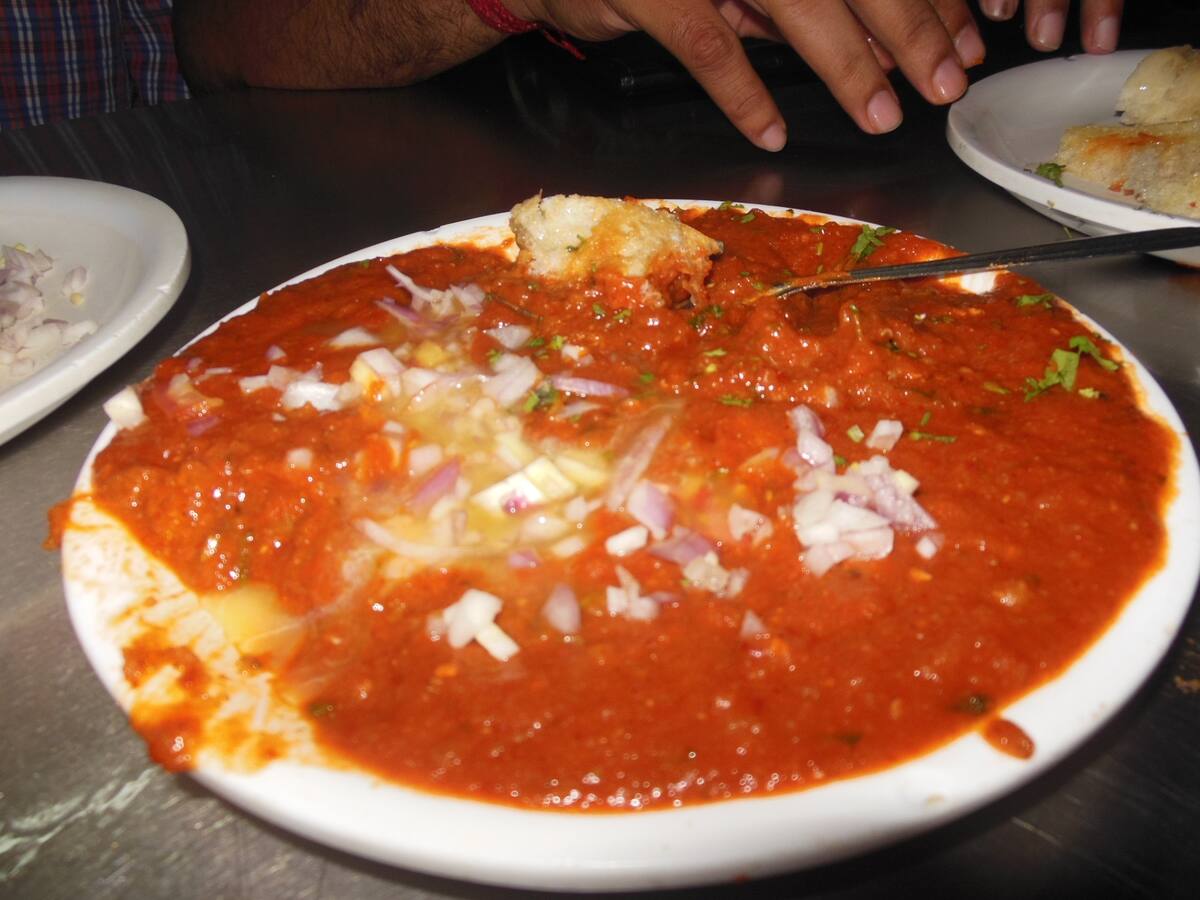 This place is a your SOS reply if you are hungry at the oddest of hours, they operate till around 3 am. Located in Irani Wadi in Kandivali West, this is the ONLY option to have good spicy food in the middle of the night. Don't expect great ambience and hygiene, this is small place whose USP is the food they make available during the AMish hours !! Just order the pav bhaji and the tawa Pulao, you would not be disappointed. The pav Bhaji is spicy, the tawa pulao Is really palatable. Don't go here if you want to eat healthy, the dishes are calorie heavy and may sent your gym schedule for a toss !! Overall, this place plays the role of a saviour.
Address: 6, Laxmi Chand CHS, Irani Wadi, Opposite Vanja Wadi , Mathuradas Road, Kandivali West, Mumbai
Opening hours: 10 AM to 1:30 AM
Cost: 500 for two people (approx.)
4. Sukh Sagar Chowpatty
A popular joint opposite Girgaum Chowpatty, Sukh Sagar enjoys plentiful loyal crowd every weekend. It is quite a old non-concept restaurant where as a kid you would ask your parents to take you out for pizzas and noodles.
Food is basic Indianized version of all cuisines, loud and delicious. One dish which will plunge you into depths of nostalgia – VEGETABLE LASAGNE. It is served super hot in a big square glass container, like taken out afresh from microwave, the way my mom did. Layers of pasta stuffed with loads of Amul cheese, corn and capsicum, overwhelmingly creamy.Prices are friendly.
Address: Marina Mansion, SVP Road, Chowpatty, Mumbai
Opening hours: 11 AM to 11:30 PM
Cost: 11 AM to 11:30 PM
5. Cannon Pav Bhaji Fort
Located bang opposite Mumbai CST, Canon Pav Bhaji is one of the most iconic pav bhaji places in Mumbai. The heavenly aroma of butter & bhaji will help you locate this humble kerbside stall as you cross the road from CST. They serve two kinds of pav bhaji – the regular one with dollops of Amul butter floating in your plate or the Cheese Pav bhaji. The bhaji here is moderately spiced, just the way it should be, while the pavs are literally soaked in butter! You'll need another helping of those Pavs to polish the bhaji off your plate.
Address: Ground Floor, Angelina Building, Near Toyota Showroom, Baji Prabhu Despande Marg, Vile Parle West, Mumbai
Opening hours: 7:30 PM to 12 Midnight
Cost: ₹150 for two people (approx.)
6. Dps Matunga East
One of the well known fast food joints in Matunga. Located opposite Ruia college flocked by the college goers It has 2 sections – outside open seating ; inside non ac seating. Service – quick. Ambience – regular fast food setting. Known for its Pav Bhaji & Fruit Beer !. It also won best pav bhaji award last year from Bombay times. Sonam kapoor personally loves pav bhaji of this place. Why not give it a try!
Address: Opposite Ruia College, L N road, Matunga East, Mumbai
Opening hours: 8:30 AM to 11:30 PM
Cost: ₹600 for two people (approx.)
7. Amar Juice Center Vile Parle
Amar Juice Centre.. a tasteful outlet in college street of Vile Parle surrounded by Mithibai, NM College and many more.Best part that it opens till late. This college street is full of many other small outlets too.In night this place is crowded by young couples and also a part of night life of Aamchi Mumbai.Coming to taste, they are famous for Pav Bhaji and their milk shakes. Pav Bhaji is really nice and yummy in taste with Pav bit dipped in butter. Go for Pav Bhaji for sure and satisfy your mid-night hunger
Address: 3, RN Cooper Hospital Compound, Gulmohar Road, Vile Parle West, Mumbai
Opening hours: 12 Noon to 2 AM
Cost: ₹500 for two people (approx.)
8. Umesh aka chatai pav bhaji Matunga East
If you're crossing Maheshwari Udyan in Matunga in the night, there are high chances that you will come across Umesh whose stall is popularly known as chatai pav bhaji wala. He serves up a super spicy pav bhaji on his open stall. Other lip smacking dishes you might want to try are the masala pav and tava pulao.
Address: matunga east near gujrati club
Opening hours: 7:30 PM to 12 Midnight
Cost: ₹300 for two people (approx.)
9. Manohar Girgaum
Nothing is like to be mentioned no ambiance to be discussed but they are good at what they serve (pav bhajis).Google gave me this suggestion of the outlet when I moved in to the new place of mine. Spcl pav Bhaji and a cheese pav bhaji is a must try here. Over all taste is buttery and you will love it.
Address: 104 B, Pirbhai Terrace Building, JSS Road, Girgaum Naka, Girgaum, Mumbai
Opening hours: 10:30 AM to 12:30 AM
Cost: ₹250 for two people (approx.)
10. Shiv Sagar Vile Parle
One of the best place to have veg food in vile parle East. A favourite among college students. Great pav bhaji and dosas. Nice ambiance good for spending quality time.
Address: 8, Dharam Prem Apartment, Nehru Road, Vile Parle East, Mumbai
Opening hours: 9 AM to 11:30 PM
Cost: ₹600 for two people (approx.)
11. Pappilon Vile Parle West
Pappilon is one of the oldest restaurant in irla lane. It has two different sections for seating, AC and outdoor. Ambience wise not very appealing, but when it comes to food & service it's pretty good. They have a huge variety of food on their menu, so you'll most likely get what you want. Well, this place is total value for money, won't burn a hole in your pocket, so next time if you're in IRLA, must try.
Address: 1/2, New Hazra Bai House, Irla Society Road, Near Cooper Hospital, Vile Parle West, Mumbai
Opening hours: 9 AM to 1 AM
Cost: ₹650 for two people (approx.)
12. Soli Pav Bhaji Haji Ali
Its hard to believe that Ambani's favorite place to go in the whole of mumbai is a pav bhaji stall in Haji Ali. If you're in Worli and craving for some spicy bhaji then Soli Pav Bhaji, outside Heera Panna is the place to go. Its open from 7:30 PM to midnight.
Address: Ground Floor, Angelina Building, Near Toyota Showroom, Baji Prabhu Despande Marg, Vile Parle West, Mumbai
Opening hours: 7:30 PM to 12 Midnight
Cost: 400 for two people (approx.)
Comments
comments