Haji ali juice centre is one the best place in Mumbai , If you are from Mumbai or outsider , doesn't mind , it is mandatory to visit this center !! HAJI ALI juice centre is located at haji ali Darga!!
They serve you Mouthwatering pizzas , Mouthwatering deserts as well as Healthy juices !!
Sitafal shake, Mango Shake & Ganga jamuna & saraswati shake are some famous shakes offered here. The shakes are prepared fresh and are rich & thick. It's little on expensive side though.
Address: Lala Lajpat Rai Road, Haji Ali Circle, Mahalaxmi, Mumbai
Phone:022 6522 6074
Hours: 5 AM to 1 AM
Price: approx 200 per juice 300ml
02. Health Juice Centre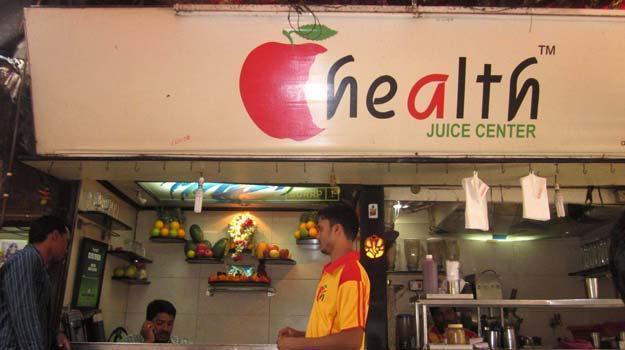 The juices here are so refreshing and extraordinary. They have plenty of pleasing flavors and combinations. You can even taste the juice shots to know the flavor.
They've got variety of sandwiches with interesting names. . Coconut cooler, chocolate, sitafal milkshake, kiwi juice are also very tasty. You would never regret spending at this place.
Everything is worth the price. They even arrange the sitting after 9pm on the entire corner area.Don't go on weekends especially on Sundays u have to wait for your order atleast 2 hours or more.. But sometimes tht waiting period is worth when your order is served to u.
Address:Kings Circle, Matunga East, Mumbai
Phone:+91 9820617777
Hours: 10 AM to 1 AM
Price: Rs 100 to 200
03. Amar Juice Centre
This place is well located near by NM college, Mithibai college and this place is always crowded specially during midnight..one must visit this outlet if one would like to have all the street foods like pav bhaji, Idli, Dosa, Tava Pulav, Cheese dosa and juices.
The taste is supreme we ordered Pav bhaji, Idli, Grilled Sandwich and Pineapple Juice..they have amazing service beside an outlet huge lane of card were parked and everyone was enjoying food and juices and shakes..
This place is must visit if one would be looking midnight food joint which is rich in quality and taste and light on pocket..
Mango pulp milshake
Cold coffee milshake
Apple chocolate chikku kesar chocolate are some shakes you can try here
Address: 3, RN Cooper Hospital Compound, Gulmohar Road, Vile Parle West, Mumbai
Phone: 022 26247917 / 022 26243863
Hours: Today 12 Noon to 2 AM
Price: Rs 500 for two
04. Has Juices and More
Located in the food court of Oberoi Mall, HAS serves different varities of fruit juices, vegetable juices and smoothies. It's good to have an outlet selling something healthy in a mall.. The HAS PARFAIT which had fruits like kiwi, pineapple and watermelon, thick yogurt, honey and muesli! is a must try here
The quantity as well as the quality of the ingredients is good. The parfait was not only healthy but tasty too!
Dark chocolate, mango,strawberry smoothie are something additional you can try here
Address:Food Court, Oberoi Mall, Film City Road, Goregaon East, Mumbai
Phone:022 28426908 / +91 8108281039
Hours: 11 AM to 11 PM
Price: Rs 400 for two
05. Pishu's Juice Center
Pishu's justifies their slogan drink your fruit. The juices and smoothies are Absolutely fresh and tasty. Love the pineapple juice here. The Mushroom sauce and the cheese sauce pastas are delicious.
The Mango milkshake i had during the season had good consistency and mango pieces were there but taste was just average.
The walnut Brownie shake is a Must try if you are a chocolate lover. Its Amazing..!
berry juice! It's Tangy n full of pulp.
dark chocolate avocado smoothie is something you can give a try
Address:8, New Shantivan Building, Oberoi Complex Road, Sab TV Lane, Andheri Lokhandwala, Andheri West Andheri Lokhandwala, Andheri Lokhandwala, Andheri West
Phone: 022 2284 4968
Hours: 10 AM to 12 Midnight
Price: Rs 550 for two
06. Bachelors Juice House
For lovers of classic chocolate drinks, this place is a must visit. Their juices are also fantastic, fresh and quite filling which I would hope for considering their pricing. Very conveniently situated opposite the Girgaum chowpatty, Bachelorr's has been every Mumbaikars go-to place for late night juice and gossip.
should try Ferrero rocher shake and strawberry
chocolate shake is awesome. Watermelon desire which was also a chocolate shake with pieces of water melon is a must try
Must have is Mango creame which is basically loads of mango pieces served with thick whipped creame, green chilly ice cream: surprisingly sweet and ting of spiciness too.
Address: 45, Chowpatty Sea Face, Netaji Subhash Chandra Bose Marg, Marine Drive-, Chowpatty, Mumbai
Phone: 022 23682211 / 022 23688889
Hours: 11 AM to 2 AM
Price: Rs 800 for two
07. Patil juice center
Image Source
Patil Juice Centre is another streetside venture serving some interesting and delicious combinations of juices and milkshakes that you would want to keep coming back for.
The Dry Fruit Dabang which is rich with cashews, almonds, pistachios, fresh fruit and ice cream! The Mahabaleshwar Masti with strawberry, kiwi, guava and vanilla ice cream.
The Kiwi cum Pineapple and Mint juice.With mangoes having set in the markets, the Mango Berry is worth a shot with Alphonso mangoes, strawberries, cream and ice cream. You can also relish a plain mango milkshake if you are no strawberry lover.
The Lai Bhari with its combination of custard apple, strawberry, mulberry and vanilla ice cream gives a beautiful sight for your eyes and taste for your tongue!
If you are in Charni Road, then a visit here is a must!
Address: Centre Tata, Road 2, Supariwala Estate, Opera House, Charni Road, Mumbai Mumbai
Phone: +91 9224120790 / +91 9270232415
Hours: 9 AM to 1 AM
Price: Rs 250 for two
08. Badshah Cold Drinks
Badshah in Crawford Market is the fruit juice and falooda capital of Mumbai. One can gorge on every seasonal fruit available in Mumbai in every imaginable form inc. juices, shakes, kulfi, falooda and more. Be sure to sample the falooda standard i.e rose falooda. And yes they also serve light veg snacks such as idli, dosa, Uttapas, sandwiches, pizza, bhel puri, Pav Bhajji, etc.
Dry fruit milkshake
Kaju anjir milkshake
Masala almond milksake
Chocolate milkshake
Address: Dr DN Road, Crawford Market, Mumbai CST Area, Mumbai
Phone: 022 23421943 / 022 23449316
Hours: 7 AM to 12:30 AM
Price: Rs 600 for two
09. Love n Latte
Ferroro rocher shake is a must! Also hazelnut blast. 'Yum' is the word.Strawberry milkshake is ok, you can five it a try
Address: 1, Ground floor, Interface 11, Behind New Infinity Mall, Malad West, Mumbai
Phone: 022 66916661
Hours: 8 AM to 1 AM
Price: Rs 500 for two
10. JOOST JUICE BARS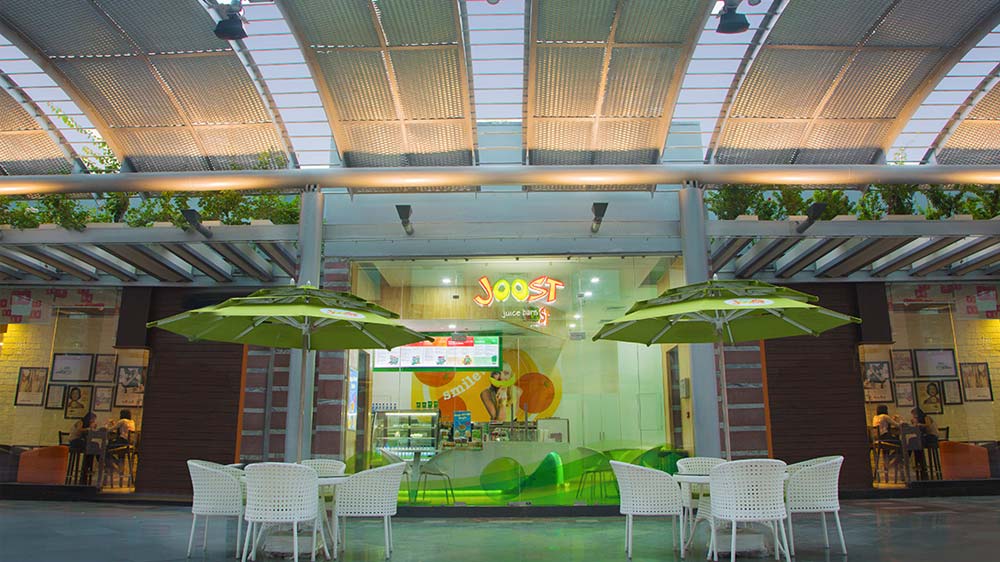 A superb chain of Juice bars that have made healthy look not just look cool but taste amazing. Juices and smoothies that can be gulped down with out any guilt..Do not miss on the Berry blast..! Also the immunity juice is refreshingly fresh. What you will love about this place is fresh juices are squeezed right in front of you, no mixing no diluting nothing. Some juices offered.
All berry bang
Banana Buzz
Mega mango magic
Blue berry blast
Address: Shop 8B, Khao gali, Carter Road, Bandra West
Phone: 022 68888223
Hours: 6 AM to 12 Midnight
Price: Rs 350 for two
11. Elco JUICE BARS
elco market juice[/caption]" width="1920″ height="1080″ alt="Mumbai milkshakes" />
The famous Elco, worth a visit for all those in Bombay. Their pani puris are the best that I've had so far. The quality of the puri is great and so is the filling! To top it all, the water is cold (just the way I like it.)
What I loved the most was the Grape Blossom juice (please try it, it's amazing!) and the Thandai Shake (wow).
Elco, you amazed me with your quality (and quantity) of food
Address: 2/A, Elco Market, 46, Hill Road, Bandra West
Phone: 022 65157171 / 022 26437206
Hours: 9:30 AM to 11:30 PM
Price: Rs 400 for two
12. Blossom Juice Centre, Ghatkopar
Everyone who stays at ghatkopar knows about this place very well, the juices are too good and also there nachos and pav bhaji, nothing much would be left to tell about this place as it is an icon on its own, so enjoy one won't be disappointed
Juices n shakes recommendation:
Choco feast
Choco Almond
King blossom
Black Forest
Kala jamun
Falooda
Address: Vikrant Circle, Tilak Road, Ghatkopar East, Mumbai
Phone: 022 33716084
Hours: 3 PM to 12 Midnight
Price: Rs 300 for two
Like our fb page – www.facebook.com/mumbairockz and stay updated with latest post on mumbai
Hope you can relate to this post too! If I missed some famous joints comment those and it would surely be added, comment them below! 😀
Comments
comments