Mumbai malls – There are many famous malls in Mumbai. Many of them must have already been visited by you. These famous malls in mumbai some known for its structure and some for its size are a must visit . Lets take a look at these 7 must visit malls in Mumbai.
01. High Street Phoenix, Lower Parel
Area: 33,00,000 square feet
Address: 462 Senapati Bapat Marg, Lower Parel, Mumbai.
This mall has over 500 brands with a variety of F&B, entertainment, commercial and residential complexes.
High Street Phoenix, is one of the best malls in Mumbai where, each zone has been specifically designed to offer an international experience to the customers.
Being one of the best malls in Lower Parel, it has 3 distinct shopping zones i.e., Skyzone, Grand Galleria and Palladium. High Street Phoenix is well known focal point for global fashion, dining and entertainment and is the heart and lifeline of the Mumbai city.
The nearest railway station lower parel
02. Phoenix Market City, Kurla West
Area: 21,00,000 square feet
Address: 462 Senapati Bapat Marg, Lower Parel, Mumbai.
Truly a shopper's paradise that houses more than 600 brands, Phoenix Marketcity has been touted as the number one destination when it comes to entertainment, dining and shopping in the city. The mall provides its customers the best international brands, offers, contests and a holistic shopping experience.
Phoenix Marketcity Mumbai, which is spread across a retail space of about 2.1 million square feet, houses close to 700 plus brands in the ranks of Zara, Gant, GAS, Diesel, Nautica, Accessorize, Claire`s, Puma, Aldo, Charles & Keith, Swarovski, Vero Moda, Jack Jones, Only, MAC, United Colors of Benetton, Luxury Boulevard, La Senza, Lifestyle, Hamley`s, H&M, Promod, U.S.Polo Assn, Steve Madden and many more.
Phoenix Marketcity also offers a variety of entertainment options such as Happy Planet, PVR Gold Class, 16 Lane Amoeba Bowling Alley, Snow World, What The Fun and more.
The mall provides over 75 dining options serving quality meals that are perfect for quick lunch, pre or post shopping as well as a night out of entertainment.
The nearest railway stations are Kurla railway station and Vidyavihar railway station. The nearest bus stop is Kamani.
03. R-city Mall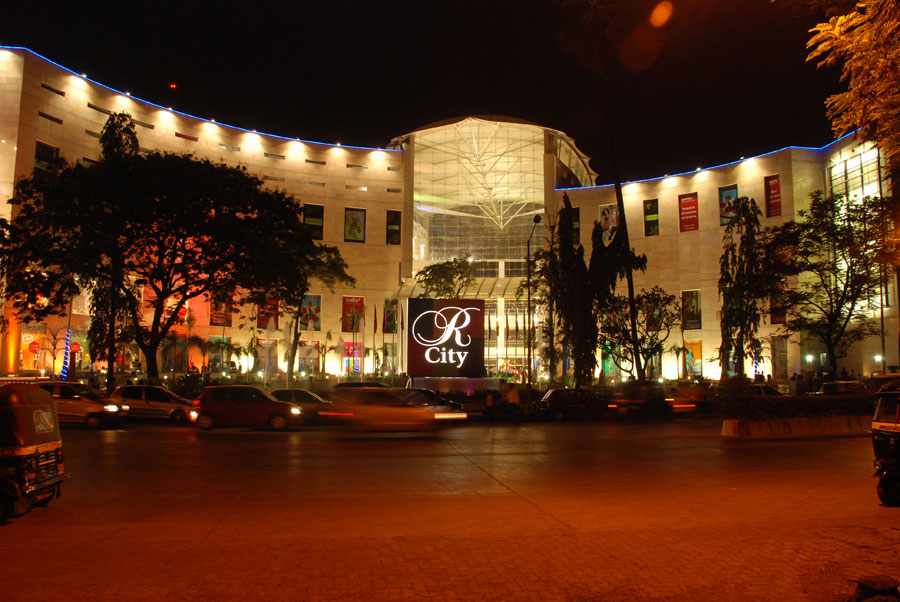 Area: 12,00,000 square feet
Address: Agra Rd, Amrut Nagar, Ghatkopar WestBombay, Maharashtra, India.
R City Mall, owned by Runwal Group, is a shopping mall located in Ghatkopar, Mumbai.
The mall spreads across 1.2 million square feet with the capacity to house 139 stores.
Among all its branches its Ghatkopar Branch is the most famous one
R City is known to become Mumbai's leading entertainment and lifestyle destination that will raise the bar in providing an outstanding experience in Mumbai, where living, working, playing, shopping combine to form a city life of epic proportions.
04. Infiniti Mall, Malad
Area: 3,02,000 square feet
Address: Link Road, Malad West , Mumbai – 400064
Infiniti Mall, Malad is located on New Link Road, Malad (West). It is one of the biggest malls in Mumbai. It was built in 2011 and is spread across 302,349 square feet . The mall has shopping stores, multiplex, food court and play area.
The mall has five floors excluding basements. The mall consists of more than 180 brands There are 36 food outlets in the food court which comprises quick-service restaurants, kiosk and cafes and restaurants.
Planet Infiniti has Italian designed rides and never seen before indoor adventures. Located in Infiniti Mall (Malad), it has 60,000 square feet .
Planet Infiniti has video game machines like foosball and air hockey, common kiddie rides like Carousel, Aeroplane, and Train. It also has Wild Spanish bull and pool/snooker table, everything housed under one roof. This family entertainment centre has the Astro Express (Roller Coaster), the only indoor 360° roller coaster.
05. Oberoi Mall
Image Source
Area: 7,00,000 square feet
Address: Oberoi Garden City, Off Western Express Highway, Goregaon East, Dindoshi, Mumbai, Maharashtra 400063.
Spread across 7 lakh square feet, the Oberoi Mall is a unique one- stop destination for shopping, dining and entertainment. It offers the upmarket shopper over 500 exclusive brands under one roof, easily making it the destination of choice for stylish consumers.
Its anchor tenants include Central – with their first store in Mumbai, Lifestyle with the largest Home Centre outlet and the PVR Cinemas.
06. Inorbit Mall, Malad
Area: 7,00,000 square feet
Address: Link Road, Malad West, Mumbai, Maharashtra 400064
Inorbit Malls pioneered mall culture in India, when they opened its first mall to the public in early 2004 in Malad, Mumbai. Since then, Inorbit has repeated its success with world class malls in Vashi, Hyberabad, Pune , Whitefield in Bengaluru and Vadodra.
Inorbit malls have universal class and appeal, and they seek to provide a one-stop destination for fashion, lifestyle, food and entertainment leading to an international experience for families.
Inorbit Malls is a subsidiary of the K. Raheja Corporation with an objective to not just create physical structures but also to influence lifestyles.
07. Raghuleela Mall, Kandivili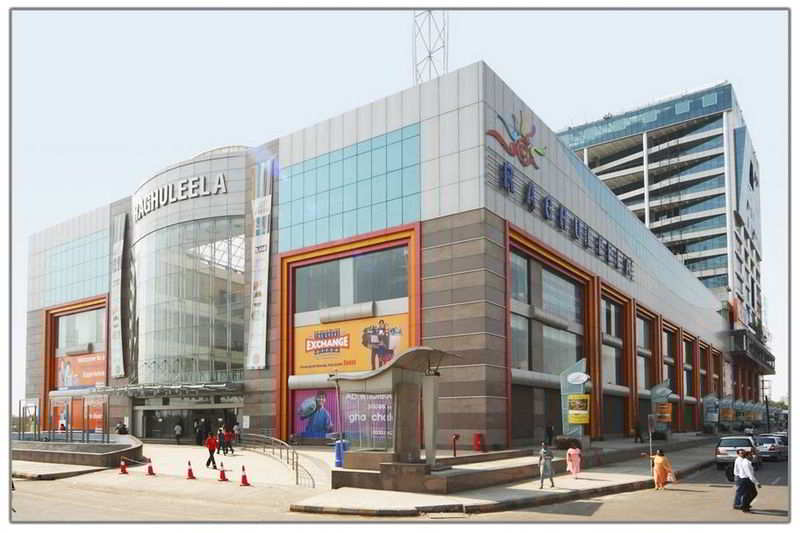 Area: 4,00,000 square feet
Address: Behind Poisar Depot, Kandivali(W),Mumbai – 400067
Raghuleela is a mall situated in Kandivali, a suburb in Mumbai. Developed by Raghuleela Properties Pvt.Ltd., the mall covers 400,000 sq ft commercial space having four floors and more than 800 shops.
RAGHULEELA MEGAMALL is one of the most popular commercial Malls strategically located between Borivali & Kandivali in Mumbai spread over an extensive area of 4 lakh sq.ft. having Ground + 4 Storey accommodating around 800 shops.
The Mall is centrally air-conditioned & amongst the amenities are 12 imported escalators with 2 beautiful capsule lifts. Being a centrally air-conditioned Mall with modern infrastructure and a thriving ambience, Raghuleela brims with mega-retailing & commercial spaces at amazingly affordable rates.
Multiplex, The mall has a Multiplex, INOX on its 2nd floor premises which has 4 Auditoriums including 3D silver screens that can accommodate 1275 seats in all. Also there is a Velocity 7D Theatre on 1st floor.
Hope you like the post 😉
Comments
comments