The tempting Maharashtrian dishes that are a must try if you visit Mumbai! The ascending order begins:
01. Aluvadi
Image Source
Aluvadi is made from colocasia leaves, which are first steamed, dipped in gram flour and fried! This is definitely a must and you would probably love it!
02. Aamti
Amti is basically a plain soup kind of gravy that is very spicy, and it's something you would only get in Maharashtra and Mumbai can make many varieties of it too!
Wanna try how to make? Recipe.
03. Basundi
This lip smacking sweet dish is heaven! Taste it and you will find yourself wanting for more!
Want to know how to make it? Recipe.
04. Bhakarwadi
Wow. This snack will replace your daily artificial snacks that you keep munching! And you would find this in every Mumbaikar's house!
Make it yourself at home and enjoy! Recipe.
05. Bharli Vangi
Bharli Vangi means stuffed eggplants. If you are lucky enough to find good restaurants that serve this just like its made at home, then way to go!
Or else make it yourself! Recipe.
06. Chakli
Another tasty snack which is native to Maharashtra and also Gujarat. You may get many variations in the taste and flavours in Mumbai.
You can try making at home, and it's easy! Recipe.
07. Kothimbir Vadi
Also known as coriander fritters. Awesome! It's just bit better than the pakoras you eat!
Try this simple and easy dish! Recipe.
08. Misal Pav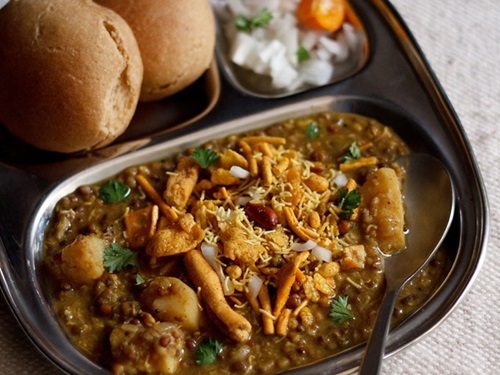 Hope you remember that this Maharashtrian snack won the title of 'The Tastiest Vegetarian Snack' in London. And if  you are a mumbaikar you would know where to head for it! Place.
Want to make it yourself? Recipe.
09. Modak
It is something that is made at every Maharashtrian home, on the occasion of Ganesh Chaturthi. It can be steamed or also fried and can be in many flavours too! Yumm!
Want to make it yourself? Recipe.
10. Pithale
It's a yumm side dish that is just so tasty, you can't be without trying! It was famous in rural part of Maharashtra, but the urban side loves it too!
Or try to make yourself! Recipe.
11. Pav Bhaji
Recipe.
12. Poha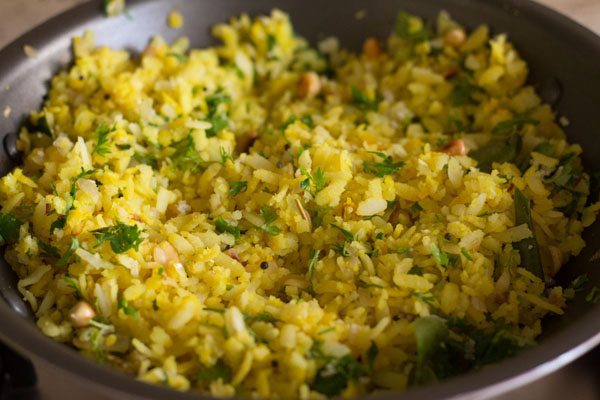 You want to impress a Maharashtrian? Make them poha in breakfast and you win! This is their daily breakfast and the easiest to make!
Try making yourself someday! Recipe.
13. Puran Poli
Made in every Maharashtrian home on the occasion of Diwali, is a sweet 'roti' is made out of jaggery and split peas.
Make yourself someday! Recipe.
14. Rassa
The white one being 'Pandhara Rassa' and the red one being 'Tambada Rassa'. It is famous in Kolhapur city, they are known for their spicy mutton dishes!
Want to make yourself? Recipe.
15. Sabudana Khichdi
It is made by every hindu mother when they have kept a fast! Tasty and awesome dish, which is a definite try!
Make it yourself too, and you will love it! Recipe.
16. Sabudana Vada
It's a mouthwatering snack! And I can't describe more! Just don't forget to taste it!
Why not make yourself someday? Recipe.
17. Shankarparli
A sweet and savouring Maharashtrian snack! Made especially in Diwali by every mother!
Try making yourself too! Recipe.
18. Solkadhi
It's a curry made out of kokum and one can drink it or also have it alongside rice.
Make it yourself! Recipe.
19. Shrikhand
Another sweet dish that is too tasty  to resist! One may find it in many flavours, but the famous one is mango flavoured one.
Want to know how it is made? Recipe.
20. Thalipeeth
It is a traditional flat bread of Maharashtrians especially had in breakfast.
Why don't you make it for your breakfast someday? Recipe.
21. Tilgul
Tilgul or til ladoos are must in every Maharashtrian home. It is made during Makar Sankranti.
Treat yourself with these awesome laddoos! Recipe.
22. Vada Pav
Last but not the least, and the most important of all, is Vada Pav. You can miss anything in the state but not at all leaving the state without eating Vada Pav.
Want to know how this awesome snack is made? Recipe.
If there is something that I missed please let me know in the comments below 😀
Comments
comments