Mumbai haunted places – Mumbai! The city of dreams and the city of gold is also a living soul in itself. This 'infectious city' is home to a plethora of people, with varied diversity and cultural richness. But the flip side of the coin reveals a dark and spooky nature of the mega-city. There exist horror stories in Mumbai that can send chills to your spine and leave you pale and horrified! Read on as we bring to you a list of some of the most haunted places in Mumbai…
1. D'Souza Chawl
It is believed that a spirit of a deceased lady roams around the corridors of this chawl and has been seen many times near the well which is not in use anymore. People used to fill drinking water and also wash dishes from this well. Once a local lady was trying to fill water from the well when the wall collapsed and the lady fell into the well. She died immediately. Since then her spirit roams around the premises but does not harm anyone. The spirit vanishes with sunrise.
2. Aarey Milk Colony
The scariest story is about the lady. Many people experienced her ghost and told terrible stories. She stands under a tree and cry loudly. Sometimes asks to ride, whenever drivers stop, they see a lady standing there. Her long hair covers her face. But when she looks at them, it's not a lady who was crying. Suddenly she changes herself in a violent spirit. Numbers of injuries on her face, eyes bursting in anger and she is almost running towards them. Seeing this everyone will run, isn't? But when they run their car at high speed she sometimes runs a long distance with the car and screams to make them nervous. Some people suffered a long time illness after face this horrible apparition at night on the Aarey road.
3. Mukesh Mills
One of the most famous haunted places in Mumbai, Mukesh Mills is one of the oldest structure in mumbai that was destroyed in 1870 by a fire. Since then,people have encountered many paranormal experiences. The Mills are a famous location for Bollywood shoots but most film-stars are spooked out by the location. There have been many incidents on sets and shooting is wrapped up as early as possible.
4. Tower of silence
The 'tower of silence' is belief to be a circular raised structure used by Zoroastrians for exposure of the dead.
The common Dakhma originally denoted any place of the dead.
The term "Tower of Silence" is a neologism attributed to Robert Murphy, who, in 1832, was a translator of the British colonial government in India.Zoroastrian tradition considers a dead body, in addition to cut hair and nail-parings, to be unclean. Specifically, the corpse demon was believed to rush into the body and contaminate everything it came into contact with, hence the Vendidad (an ecclesiastical code "given against the demons") has rules for disposing of the dead as "safely" as possible. Though there is no official statement ofthis place being haunted, people believe a uneasy feeling here.
5. Sanjay Gandhi National Park
With so many leopards and tigers in Sanjay Gandhi National Park haunted you'll be lucky if they don't feast upon you if you're within this park after dark. However, if you manage to escape them, you still may not be quite safe yet. This is because there are some restless souls who were unable to live or die peacefully within the city of Mumbai. So, if you are within the boundaries of Sanjay Gandhi National Park haunted at night you may see them for yourself.
One of these apparitions is that of a phantom, female hitchhiker who's dressed in all white. She is said to ask anyone who drives by her to give her a ride. While you may think that this is caused by the dense forests, wildlife or old caves that are found within this area (all of these things making the area an active ground for paranormal activities), the guards who work there at night claim that the Sanjay Gandhi National Park ghost really does exist there.
6. Vrindavan Society
Vrindavan Society in Thane is very notorious due to its slapping ghost. The haunting by this ghost started post suicide of a middle-aged man in building no 6B. After this unfortunate incident, anyone who comes late gets tight slaps from this ghost. In an otherwise funny side to this scary story, once the watchman of this building got slapped so hard that he fell back in chair. And since he thought the other watchman slapped him, they got into a fight. However on further investigating the apartment of this tragedy, nothing was discovered. Often the residents of this society complain of queer sensations in the vicinity of the building.
7. Nasserganj Wadi
Located near Mahim railway station, A Parsi gentleman called Nasser, who was brutally burnt in a cabin close to a well inside the compound. "The brutal murder was committed around 16 years ago, but the Parsi landlord still takes his daily stroll over here after midnight, keeping a watch on his property. He doesnt forgive anyone who crosses his property."More than seven people have lost their lives here, within a span of one year after the Parsi landlord died
8. Road to Marve and Madh Island
An urban legend describes its cause. According to this,She was newly married and happy. Everything was going fine till her husband's family began to demand dowry. As she could not make it, her husband took her on a long drive. Right on this road he sped the car in front of a truck and jumped out of his car. The lady surprised from betrayal of her husband, died in that car accident. Since then her spirit wander during full moonlight adding spookiness to haunted Marve road.
9. Bombay High Court
Horror stories in Mumbai aren't limited to parks or empty roads! The Bombay High Court is mysteriously haunted by a bilingual spirit, who is said to terrorize and torment people whenever a murder trial takes place. This spirit has a long and dark history of about 30 years. A notorious ghost at a courtroom sure makes for a few late afternoon tea party stories!
10. St. John's Baptist church, Andheri
Built in 1579, St. John's Baptist Church was abandoned due to an epidemic in 1840. The tale of a ghost bride is narrated by the local folk, who was said to torment dwellers of the area. To get rid of the menace, an exorcism was performed in 1977. There are terrible stories of this occurrence too. Witnesses say that they heard shrieking and screaming, followed by the sound of a full fledged splash in a nearby pond. Although all the fishes in the pond were found dead the following day, the ghost was never heard again. The stories of the young bride and her purported second death, together make the church a spooky and haunted place in Mumbai.
11. 8th floor, Grand Paradi Towers
The Grand Paradi Towers, situated in the posh Malabar Hills in Mumbai, are infamous for the number of suicides which have taken place here. Constructed in the 1970s, a number of flats in the buildings are still vacant. This phenomenon is mostly attributed to the paranormal status of the towers. About 20 residents have jumped to their deaths, a number of them from the same family. The residents have held several pujas to ward off evil spirits, but this place still remains one of the most haunted places in Mumbai.
12. Poonam Chambers, Worli
Post the 1993 bomb blasts and the incident involving the crashed wall in 1997, this place is supposed to harbor the spirit of several people who remained trapped under the rubble. Owing to the unnatural nature of their deaths, a lot of ghost stories spurted from the annals of Poonam Chambers, giving it the status of a notoriously haunted place in Mumbai. Watchmen and security guards have reported incidents involving rattling doors which have scared them vehemently.
13. Taj Mahal Hotel
This magnificent hotel is strangely known to be one of the haunted places in Mumbai. It is believed that the hotel's chief architect committed suicide because of a glitch in the construction of the hotel. He is said to be harmless and is known to haunt specific parts of the hotel. Harmless or not, it does send shivers down one's spine.
14. Ram Sakit Building, behind Paradise Cinema, Mahim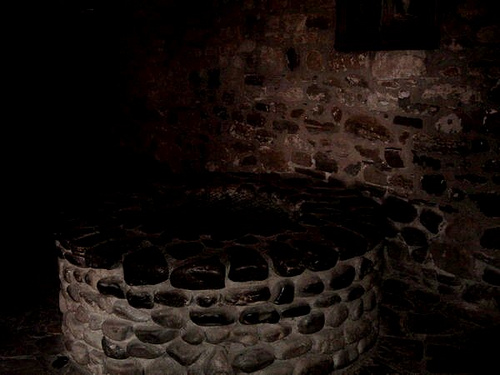 As with wells and people, there tend to be ghost stories associated with them. A 50 year old woman fell into a well which is sealed in the building's compound. This happened 20 years ago, but the people living in the area believe that her spirit makes an appearance every new moon night, and vanishes in the morning. Surely not a place to be venturing out in the dark or alone.
15. Santa Cruz West
The thoroughly frequented Santa Cruz is believed to be yet another haunted place in Mumbai. The ghost is known as "2nd floor ki bhabhiji" as the residents of this place are too scared to utter the woman's name. This woman committed suicide after a bad fight with her husband. Post her death, a mysterious black dog seems to have made the second floor his home. Residents say that a veiled woman has often been seen in that corridor, which has been accompanied by the barks of the dog. This story definitely is one worthy of being called "bone-chilling".
16. Juhu Pawan Hans Quarters
In 1989, a 20 year old woman called Salma set herself on fire in this area. Nobody knows the reason behind this, but since then, people have seen the blazing spirit of the girl running into the Peepal tree. To protect themselves from harm, residents have built a Hanuman Temple in the area. Some people say that an ablaze girl still runs through the campus on exceptionally dark nights. We hope the temple does keep her spirit at bay.
17. SNDT Girl's College
18. Jogeshwari, 2nd floor
Unnatural deaths around various parts of the metropolitan have sprouted various horror stories around the city of Mumbai. The 2nd floor of the pink colored building here is supposed to be occupied by the ghost of an air hostess who was murdered here. Another air hostess then took residence in the same apartment. But people have sighted a woman on the terrace who seems to be crying all the time. She's said to point towards her house and cry as someone else has occupied her house.
19. IC Colony, Borivali
There is an open garden plot right in the middle of the IC colony where a gardener committed suicide a few years ago as he was scared about losing his job. His spirit is still attached to the land, and is supposed to target children playing in it's vicinity. This is a reason why the IC Colony is one of the most scary and haunted places in Mumbai.
20.
Kamathipura – Brothel no: 25
Initially this place used to be known as the White gully, as European women, and even some from Japan were imported here. It was a haunt of the British soldiers during the Colonial era. The reason why this place is considered to be haunted is because sometimes at night, the ghost of a prostitute of the Colonial era makes an appearance with the motive to scare unassuming customers.
Comments
comments