Global Vipassana Pagoda is a Meditation Hall near Gorai, North-west of Mumbai, India. The Pagoda was inaugurated by Pratibha Patil, then President of India on 8 February 2009.[1] It is built on donated land on a peninsula between Gorai creek and the Arabian Sea. The pagoda is to serve as a monument of peace and harmony. The Global Vipassana Pagoda has been built out of gratitude to Sayagyi U Ba Khin (1899 – 1971), Vipassana teacher and the first Accountant-General of Independent Burma, who was instrumental in Vipassana returning to India, the country of its origin
01. It has been designed as a replica of the Shwedagon Pagoda of Yangon, Myanmar to show the gratitude of India to Myanmar for preserving the non-sectarian Vipassana Meditation, in its pristine purity, when it was lost in the country of its birth, India.
02. The genuine relics of the Buddha are enshrined here.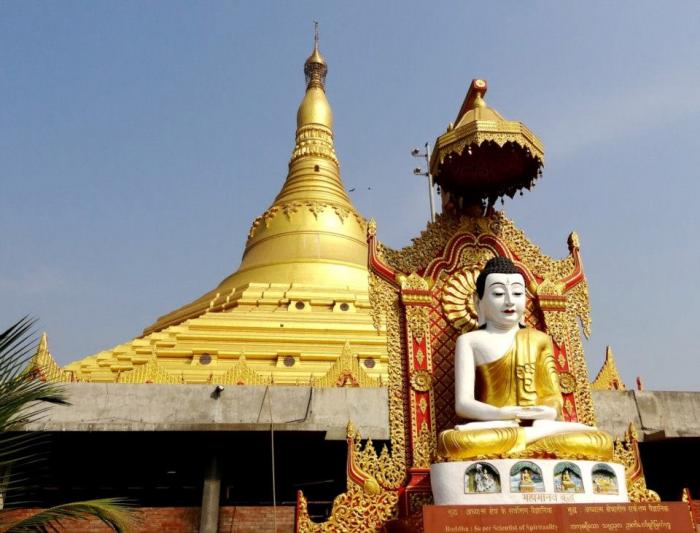 03. It is one of the largest stone monuments in Asia.
04. The technique of inter-locking stones is used to construct the monument. This negates the need for any pillars in the construction of the Pagoda.
05. It contains the biggest pillar-less stone dome on earth. It is more than thrice the size of the previously largest stone dome structure – the Gol Gumbaz in Bijapur (90 feet in diameter).
06. At its centre is a huge meditation hall, 280 feet in diameter which has a seating capacity of 8000 people.
07. At 325 feet height, it is almost as tall as a 30 storey building.
08. Approximately 2.5 million tons of stone was used in the construction.
09. 3.87 million man-days were required to complete the monument.
10. At 325 feet height, it is almost as tall as a 30 storey building.
11. The construction work progressed without interruption supported selflessly by Vipassana meditators and devotees from around the world.
12. It is expected to exist as a beacon of Peace and Harmony for the next 1000 years.
Like our fb page – Mumbai and stay updated with latest post on mumbai
Hope you can like the post
Comment your feedback below! 😀
Comments
comments