Mumbai dosa : The people from Southern India brought along the Dosa which comfortably made a presence felt in the Mumbai street food scene. Dosa is made of rice flour and served with chutney sambar. Let us take a look at 15 must visit dosa joints in mumbai.
01. Prawn masala dosa at indian summers
Address: 80, Veer Nariman Point, Churchgate, Mumbai, Maharashtra 400020
Indian Summer is one of the finest place where you can have delicious food, excellent service and calm ambiance. All the spices and flavour can be tasted easily. Service of the place is nice too. A must try here is Prawns masala dosa
02. Palak paneer dosa at Narayan dosa
Address: 16, AR Rangnekar Rd, Gamdevi, Mumbai, Maharashtra 400007
Narayans offers one of the best dosas. The paneer chilly dosa and the Mysore masala dosa are amazing. If you're ever seeking for some comfort food, this is the place to head without a second thought!
03. Raagi dosa at café madras.
Address: 38 B, Circle House, King's Circle Near Maheshwari Udyan, Matunga East, Mumbai
Nothing…. Absolutely nothing can be better than having your breakfast here. The place is always crowded, but it is always worth the wait. Rasam Wada , butter podi idli, tuppa dosa, nai roast, bisibelle rice, and of course the Kaapi and raagi dosa are a must try here. Do visit. 🙂
04. Ayyupa special dosa at Ayyappan Dosa Stall
Address: 384, Telange Road, Opposite Nalli, Matunga East, Mumbai
This is one yet another awesome place to eat authentic south Indian food. However keeping on mind the other communities they have customised a lot of their dishes.Its small shop where you have to stand and eat but the food is mouth watering. You can aslo try Masala Idli,Upma,Medu wada,Ayyupa special dosa – don't miss Palak Idli
05. Spring roll cheese dosas at Anand stall
Address: Opposite Mithibai College, Gulmohar Road 1, Vile Parle West, Mumbai
Famous between all age groups. Love their dosa. Must try their Jini dosa, Dilkhush dosa and pasta dosa. Always crowded, good for college students around. Been here several times though. Not only their dosa but also their other items are equally yumm.Spring roll cheese dosa is a must try here
06. MYSORE onion ravaged sada dosas at hotel Rameshrey
Address: Bhandarkar Road, Matunga East, Mumbai
Undoubtedly the best place for South Indian food when in Matunga. Originally started to cater to people who left early for office, still opens at 5am every day except Thursdays when it is closed. Always crowded though and you will have to wait in queue. Food is just awesome.MYSORE onion ravaged sada dosa is a must try here
07. MYSORE MASALA DOSA NEAR SOPHIA COLLEGE
A complete diet in itself, Masala dosa is one of many popular breakfasts that Mumbaikars love. The crispy Mysore Masala Dosa of the Dosa center located on Bhulabai Desai road, right outside Sophia College is our favorite pick. All that can be said about the delicious Dosas of this place has already been said. You wouldn't be disappointed with any item on their menu.
08. SHIV SAGAR'S SADA DOSA
Address: Near Beauty Centre, SV Road, Khar West, Khar, Mumbai
Good option for quick dining on SV road. Veg place that serves some good Pav Bhaji and South Indian Items. It has two floors of sitting and the upper floor is really spacious. Their Palak Pav Bhaji is really nice. In dosas I prefer the Mysore Sada dosa which has a green chutney.
09. ANNA DOSA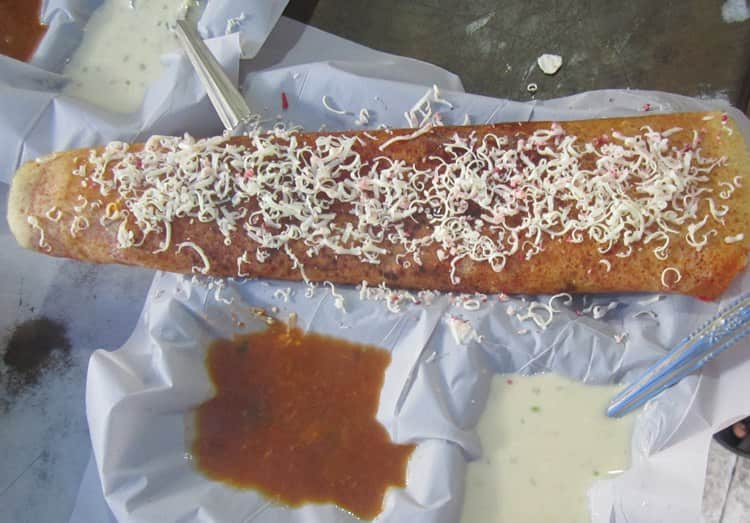 Address: Artik Villa, Rizvi Complex, Sherly Rajan Road, Carter Road, Bandra West
Amazing South Indian food ,piping hot, tasty and quick. Located on the inside roads of Bandra, parallel to Carter Road. Same line as Rizvi college lane.
10. DOSA DINER
Dosa Diner is one of my favourite eateries in Mumbai. It has outlets across many places in Mumbai. I have had food from their joints in Bandra (the first time), Chembur, Andheri (only spot from where I have not had), Fort (near Gateway) and also in front of GPO (now they have closed it; not because I visited it; cmon how can you be so mean to think that). They also have on in Pune, I hear from my friend.
11. Manju Dosa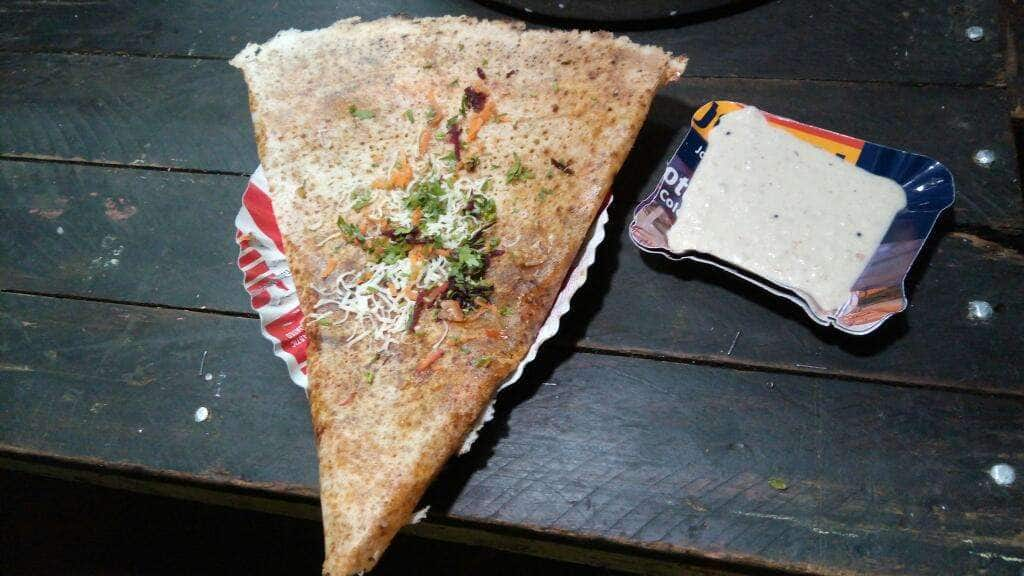 Address: Road 16, Khar West, Mumbai, Khar, Mumbai
The Dosa joint is here since 2006 and the taste is way better than that of Mithibai Dosa stalls, they use cheap quality of butter… But manju Dosa uses only AMUL butter and it may fewer choices but the taste quite authentic and their CHUTNEY is to die for!
12. Tirupati Dosa Centre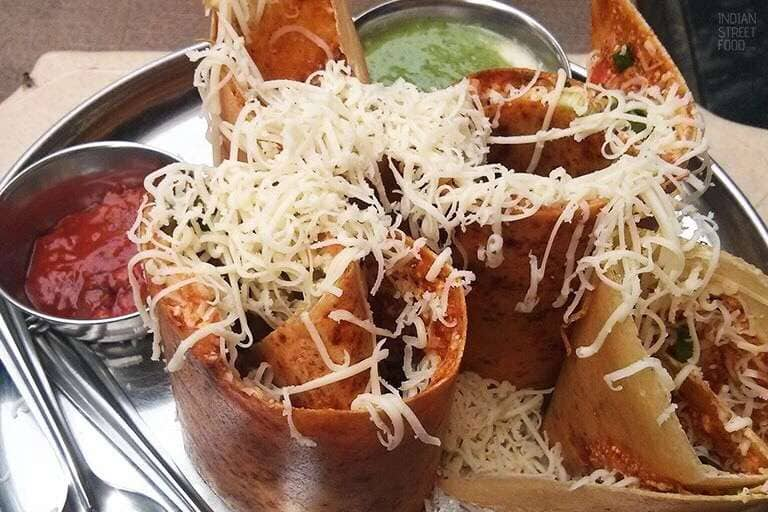 Address: Shop 23, Plot 15, Krushi Plaza, Opposite Mathadi Bhawan, APMC Market, Sector 19, Vashi, Navi Mumbai
Best dosa place in Vashi! Its started as a very small out stall and developed into a little bigger shop.
Ambience isn't all that pleasing but dosas are outstanding! All the south Indian dishes are available! Personal favorite: Maysore Masala cheese dosa
13. Mani's Lunch Home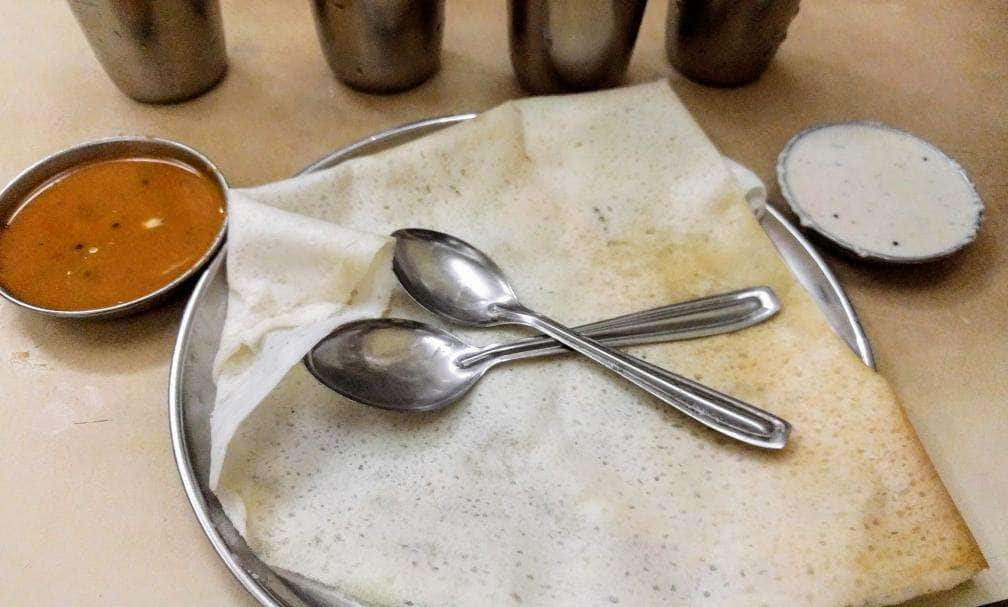 Image Source
Address: Shop No.86,Komal Bldg,Road Number 2, Chembur East, Mumbai, Maharashtra 400071
They are fulfilling taste Budds of people since 1937.Located at famous ruia naka. This is the authentic South Indian restaurant.Here u will get all d stuff of South Indian restaurant. With unlimited chatni and samber.
No extra cost for dis. You can try sada dosa here
14. Cheese Volcano Dosa at Pure Milk Center in Ghatkopar, Mumbai.
Address: 19/20, Vikrant Building, Ratilal Mehta Marg, Ghatkopar East, Mumbai, Maharashtra 400077
Cheese volcano dosa is a pure heaven for all cheese lovers. Perfectly made dosa stuffed with flavourful vegetables masala , topped with cream cheese and served with a variety of chutneys. You can eat this dosa at Pure Milk Center in Ghatkopar, Mumbai.
15. Muttu Dosa Hindmata
Address: M.J.Phule Road Dadar [E] Hindmata behind gold Cinema Hindmata.
Some people say this is the best dosa joint in mumbai. Wanna prove them wrong visit this place and give it a try 😉
Hope you like the post 😉
Comments
comments