Mumbai slangs aka Bambaiyya language is the unofficial language of mumbai. Below are the most common Hindi slangs of Mumbai used by Mumbaikars every now and then. Lets take a look at some of mumbais most used tapori words :p
Ghanta : Impossible.
Bole Toh : I Mean.
Waat Lag gayi : I Am Screwed (Kind Of Problem Created) .
Bhai Ekdum Eksat Hai (Shoe Retailers Slang) : Good Quality Stuff.
Kya Thakela Maal Chipka Diya : You Gave a Bad Quality Stuff .
Chal E Zandu : Move away you idiot .
Pani Cum : Generally Referred When asking for Tea at street side tea stalls, Which means 'Give me good Quality Tea' with 'less water (i.e Pani Cum)'. Otherwise referred to a person as 'Not so cool'.
Khajoor : In Real 'Khajoor' means the fruit 'Dates', Here it again means referring a person like a stupid with no sense.
Shaane :Bad Tone of Referring a person as 'Smarty'.
Chamdi : Womanizer.
Fattu : Referred to a Scared Person.
Faadu : Superb.
Chindi : Stingy.
Vatakle Idharse : Move Out of here You AssH.
Saltale : Solve it Here Only.
Chipka Dal : Give it.
Haata : Back Off.
Kya Haal Hai Boss : How are you dear.
Kidhar Ja Raila Hai : Where are you going ? .
Abe Chindi : Word Chindi is kind of teasing and saying you are behaving cheap.
Bus kya yaar : Common Dear (Or Exa: Common you know it dear) .
Khali Wali : Actually words from a hindi song, But in Tapori slang it is used to say 'Move Away'
Locha Hogaya or Lafda Hogaya : Messed up Or There is some problem.
Chava Lagraha hai : You looking handsome.
Kalti Marle : Lets Move Quitely From Here.
Jhol Kiya Kya ? : Did you used some wrong way of doing thing ? .
On Mumbai Street boys talk looking at beautiful girl
(Slang : Mast Item Hai Re) : Wow what a beautiful babe.
Hilgaya yaar : I was kind of amazed or astonished (Depends on how and what they use it.)
Abe Saale : Casual way of calling when other friend is not ready for something.
Chal Hawa Ane De : Move out of my way or be away, Kind of threatening (Typical Tapori language).
Chayyla : A word used when are angry or made fool of yourself (Typical Slang).
Bohot keeda hai tere mein : Meaning goes like : U messing up unnecessarily.
Chal milte hai : Cya OR See you later.
Pakka (A word Commonly used in market or between friends) : Means : Confirm right
Alibaug ka samajta Hai kya ? : You think i am a fool ?.
Kaat Dalega samjha kya : Will kill you.
Jhakkaas A word used when he feel very good about some thing, like seen a movie he says 'Kya Jhakkas movie tha re'.
Fulltoo hai : He is drunk.
Dimaag Ki Nas Mat Kheech : Dont irritate me okay.
Fattu hai : He is afraid or panicked.
Kharcha Pani Du Kya ? : Typical Tapori Language (Means : Do you want beating from me ?).
Waat lagayi re. : I made a mess.
Khopche Mein Lu Kya : Do you want a slap from me.
Raag Mat de : An action word to make someone afraid.
Wo Line De Rahi Hai : That girl is intersting and giving positive signals.
Sumdi mein vatakle : Move away from this place quitely.
Abe Dhakkan : You Fool.
Atrangi : Weird.
Lallu : Idiot.
Chamat : A Slap.
Dhed Shane (used like 'Wo Dhed Shana Hai' : Acting Smart (Means : That guy acting smarter ha..).
Abe langoor : Again this one word slang means, You Fool / Idiot.
Hul De Raha Hai Kya ? . Are you scaring me ? .
A Chote : Hey Small Brother.
Watakle : Simply get lost.
Cutting Chai : Half Cup of tea.
Chal Nikal Le : Scaring other guy by saying 'Hey You move out from here."
Vulgar Slangs (Read Only If You Are Age 18 and Above)
Gandu : A vulgar word, just like one uses 'You F*c*er'.
Chutiya Samjha Hai Kya (Vulgar Language) : using this bad word, trying to prove that i am smart and not fool me around ok.
Bumboo Lag Gayi : Screwed badly.
College Campus Lingo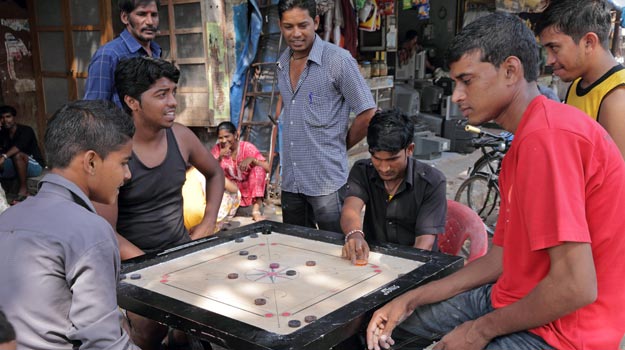 Pinging : Trendy word use in replacement of 'texting' in mobile sms conversation.
Daandi : Bunking.
Kitna pakata hei bc professor : How boring the professor is.
Chal na tera baap lagta hei kya : Whenever praising a good teacher.
Bhai canteen mei mil kaam hei : Meet me in the canteen after lecture .
Chal na bc top marega kya : When a mate is attending extra lecture.
Generic Slangs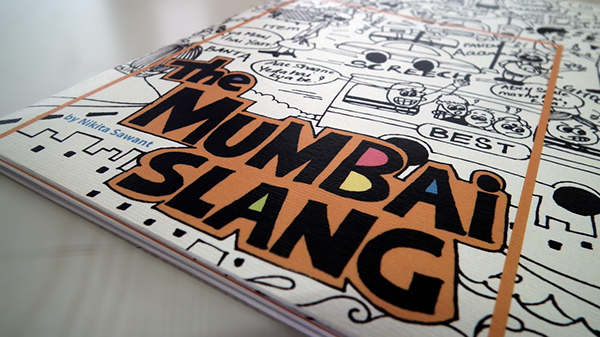 Waanda Hogaya : There's a minor problem .
Jhol Hogaya : There's a Big Problem.
Raada Hogaya : A huge problem, This slang is also used when kind of fight broken out.
Ekdum Hill jayga Tu : You'll be surprised.
Chal Apun Kalti Marta Hai : I am moving out of this situation.
Shendi mat Laga : Don't make me fool.
Chal Shane Hawa Ane De Just get out of here, You smart fool.
Aare Galat Faimi Hogayi Lagta hai A very casual Hindi slang (Possibly a Urdu word) meaning being 'Seems like some kind of misunderstanding happened'.
Tu Roz Fultu Hota Hai ? : Do you drink daily?
FAT Gayi ? : Are you Afraid ?.
Du Kya Karcha Pani ? Shall i bash/punch you ? In Arrogant tone .
Khopche mein le re isko : Take him in silent corner, Basically slang used during oral fight saying ill bash you.
Kya Zakaas Item Hai Re : What a beautiful Women.
Raag Mat De (OR) Badi Badi Chod Mat : Don't Bluff .
LOAD nahi laneka : Don't take tensions.
Kya Zagmag / Dinchaak Kapda Pehna Hai : Wow you wearing a shiny clothes.
Hata Sawan Ki Ghata : I Don't care it anymore.
Jyaada PAKAA Mat : Don't bore me anymore.
Original source still searching . If its your work kindly mention full credits would be given.
Comments any word missed by us and we will surely add it in the list :p
Hope you like the post
Comments
comments