Ashok Vaidya: The Man who gave us our Vada Pav Nestled in a tiny room in a narrow lane, in a chawl near Dadar station resides the family of Ashok Vaidya, who started the Vada Pav in Mumbai. The Vada pav came into existence when a snack seller outside Dadar railway station decided to experiment. He came up with a combination of batata vada and split pav. Soon it gained in popularity and others followed Vaidya. "My father introduced the first stall of Vada pav near Dadar station in 1966. Soon vada pav stalls mushroomed all over Mumbai," said Vinayak, Vaidya's elder son, who works for a multinational company. Ashok Vaidya passed away in July 1998. But his family, comprising wife Mangal, elder son Vinayak and younger son Narendra (who although well-educated), looks after the stall now.
Story by Vaidya's younger son Narendra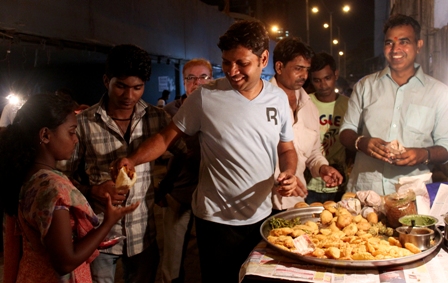 Image Source
"My father set up shop with his father in the 1960s when the Shiv Sena made its presence felt in Mumbai. My father started selling poha and vadas outside Dadar station, while the neighbouring thela sold omelette pav. One day, my father decided to put the vada between the pav and add some garlic chutney for flavour. The combination was a hit and the vada pav was born. Incidentally, all this happened before he was married," says Narendra.
While Narendra doesn't recall when his father was born, he does say his aunt (his father's sister) told him that Ashok was a good student, but financial conditions prevented him from pursuing further studies. He would then, with the help of his sister, sell poha and vadas with his father. "After marriage, my parents would make vadas and over time, my brother and I would accompany baba to sell the vadas," says Narendra.
Although his sons helped him, senior Vaidya ensured that they received the best education. "My older brother, Vinayak, earned an MBA from MET, Bandra and is in the advertising field. I completed M.Com from Mumbai University, but continue to sell vada pav outside Dadar," says Narendra.
 Sena's favourite

Image Source
Sena's favourite
The senior Vaidya was close to the Late Shiv Sena chief Bal Thackeray, who would frequent his stall regularly and would even tell BMC officials not to hassle Vaidya. "Balasaheb was always supportive of my father and had even instructed the ward office to never do anything to him. My father would also deliver vada pav to Sena meetings, where senior party leaders like Manohar Joshi would be present. In 1995, when the Sena-BJP were campaigning for the state elections, Balasaheb recognised my father at a rally and asked how the business was performing. He then asked him to come to Matoshree (the Thackeray residence in Bandra) after the Sena won," recalls Narendra.
However, that meeting never took place. "My father had tried several times to meet Balasaheb, but due to the heavy security, that meeting never happened. He had hoped to convert the thela into a shop, but that dream was never fulfilled until he passed away," says Narendra.
Hope you like the post 🙂
Comments
comments