Before Started Let me ask you one question. Tell me one person if you know who does not like BEACHES or Nature can say. I repeat, A Single Person. Taking so Long…. I think you don't found one. Am I right..? Of course yes..! I am Always Right…! :p
Anyways, I think every living things love Nature. Mumbai the City is complete package to live there once or visit for more than few days. It gives goals to explore new things with best surroundings of Nature apart from its busy schedules, noisy stations, Polluted Roads. Mumbai is full of Beaches for lovebirds, for family or friends. And Beaches are most beautiful creation of Nature. After frustrating or working days if you wanna spend time with your loved one or someone special your heart beats for. 😉
You should explore these places: –
01. Marine Drive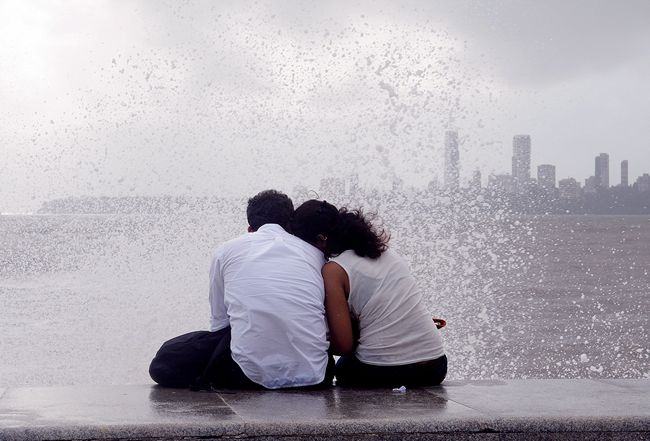 When I came in Mumbai, my dream was to be here at first at Marines. Truly, this is love of every Mumbaikar. The beach gives you peace, the feeling being there is just incredible.
The place is well lit up with calm sea breeze. You should visit Marines with your Spouse late at Night, or you can go for walk or long drive.
It is called as Queen's Necklace; Night view of Marine Drive is just like Gold Necklace, because of Lights. At the northern end of Marine Drive is Chowpatty Beach, there are lots of fast food stalls.
02. Bandra Bandstand
It is Lovers point for every age of Couples and a beautiful Promenade. It is one of the beautiful Sea Facing locations one should not miss if you are looking for secret couples place to get cozy. This place is mainly for couples.
03. Chota Kashmir
Chota Kashmir earlier meant for families but now strictly mean for Couples. It is famous for its Greenery and boating facilities. The location surrounding this spot is not crowded at all, so you can spend beautiful time on roads as well with your Beautiful/Smart Partner. 😉
04. Worli Sea Face
Such a beautiful Creation of Mumbai. The view of Worli Sea face from around anywhere nearby is just fabulous. When there is High Tide, you will enjoy a bit more watching sea. Visit this place in this rainy season. Don't miss the chance, to see SUNSET or SUNRISE.
05. Carter Road
This location is highly coveted for its Restaurants, pubs, coastlines and high-street stores. Mainly it is Heaven for food Lover. It is best for promenade with your loved one
06. Versova Beach
The most favorite among the filmmakers in Mumbai. This beach was unclean and untidy; recently a man named Afroz Shah and his team cleaned it and made it so beautiful.
07. Skky Restaurant
Image Source
Bring her a dress and take her for the Date. You can make your date perfect by choosing this awesome place. This restaurant has romantic ambience. The hotel is rooftop in Ramada. Good Place, if you are foodie and try something new every time. Tables here are separated from each other by a network of pretty plants and water islands.
08. Aksa Beach
Ask her like "Tujhe Aksa Beach Guma dun, aa Chalti Kya?" And let make her smile for whole day. 😀 Another beach in Mumbai, which is best as others. It is quite better than other beaches like Juhu, coz it is less crowded and quite from city.
09. Hanging Garden
Away from the hustle and bustle of City life, Hanging Garden would be nice break. It has well maintained green with variety of flowers. A great place to capture a sunset view of the Arabian Sea. The experience of watching the sunset from here is great to cherish for rest of your life.
10. Juhu Chowpatty Beach
What else is more romantic than watching the beautiful sunset with a bae. And then having a paav bhaji chat, faloodas and extra stuffs. Perfect delicious date
11. Borivali National Park
For those couples interested in nature with exotic weather, Borivali National Park is an ideal place to be, its is also amongst top priorities of couple
12. Jogger's Park
Jogger's Park locatd in bandra is an really ideal place for couples if they wanna enjoy a beautiful sunset with a beautiful sealink view
13. Mount Mary Fair
Mount Mary Fair which take place usually druing monsoon makes it more specially to hangout with your loved one and buying them holy as well as cool stuffs. And then visit the bandstand nearby
14. Gorai beach
Mount Mary Fair which take place usually druing monsoon makes it more specially to hangout with your loved one and buying them holy as well as cool stuffs. And then visit the bandstand nearby
Hope you like the post 😉
Comments
comments